After you finish setting up Shipping Scenarios and Shipping Methods, you can easily test Intuitive Shipping while still in Testing Mode.
Test Your Setup
1) On your Store site, add products to the cart, then proceed to your store's Checkout page.
2) Enter the Customer Name as (first name) Intuitive (last name) Shipping. This will allow your Intuitive Shipping rates to appear as your customer will see them when you activate your account.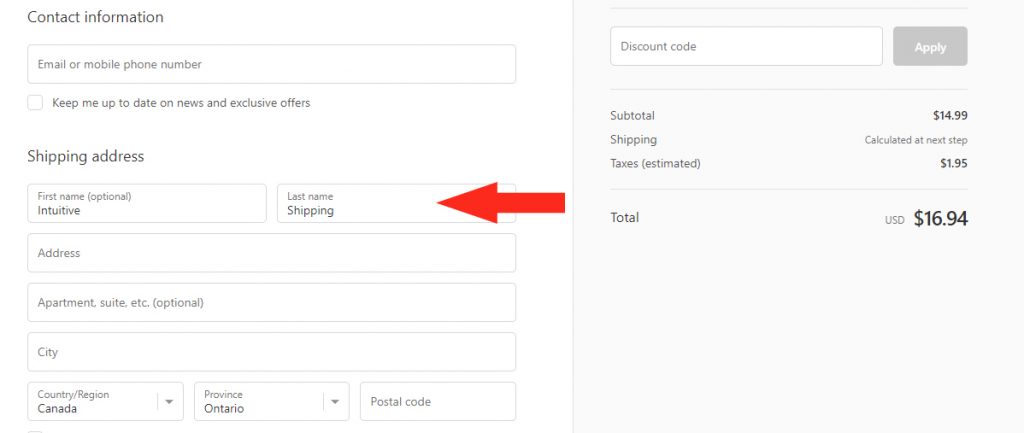 3) Complete the Shipping address form by adding a test address. You can use a real or fake street address as long as the Postal/Zip code is authentic.
This is normal. Only you can see the rates generated by Intuitive Shipping while you're in Testing Mode. Your customers cannot see rates from our system, and will continue to see rates coming from Shopify, or another third-party rate provided if you're using one, until your Intuitive Shipping account has been activated.
Enable Carrier-Calculated Rates
When testing new or updated Shipping Scenarios, you'll need to make sure Carrier-Calculated Rates are enabled on your Shopify account. If they aren't enabled, your shipping rates will not appear at checkout, even in Testing Mode. In addition, you'll see a red banner on the Intuitive Shipping Dashboard.

In some cases, the red banner will not appear even when Carrier-Calculated Rates are not yet enabled. To confirm the status of Carrier-Calculated rates,
1) Click on Shopify Settings at the bottom of the left Sidebar.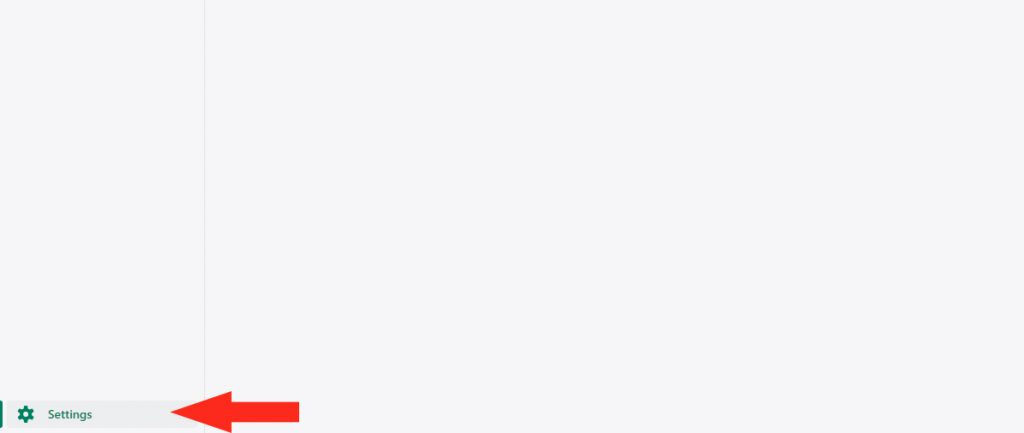 2) Click on Shipping and delivery.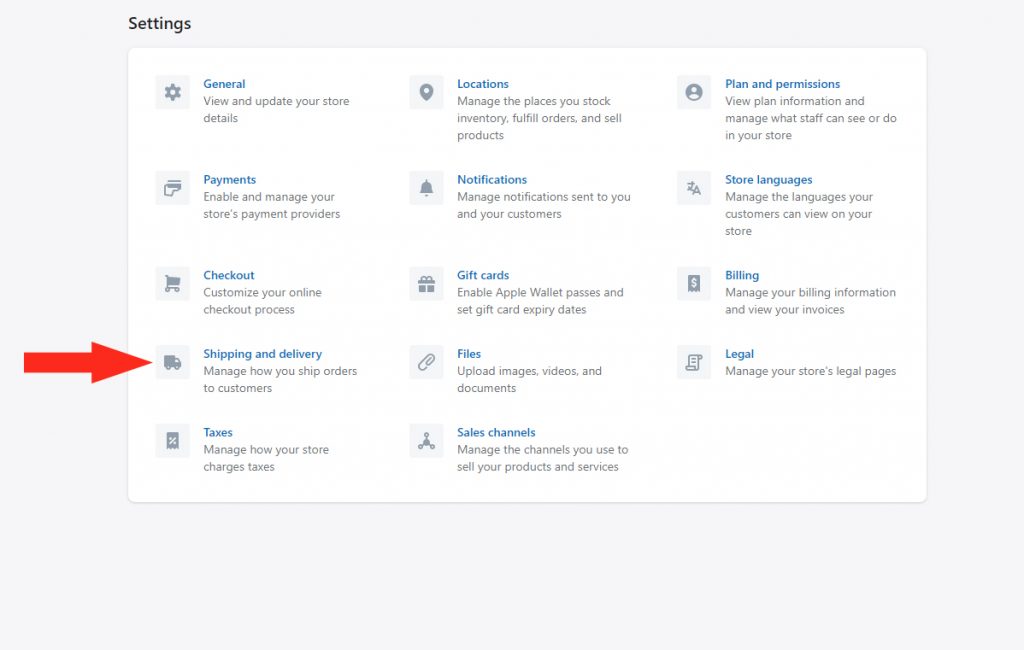 3) Scroll down to the bottom, then click Manage integrations in the Accounts and integrations section.
If you are prompted to Enable third-party calculate rates at checkout on the screen, the feature has not yet been enabled.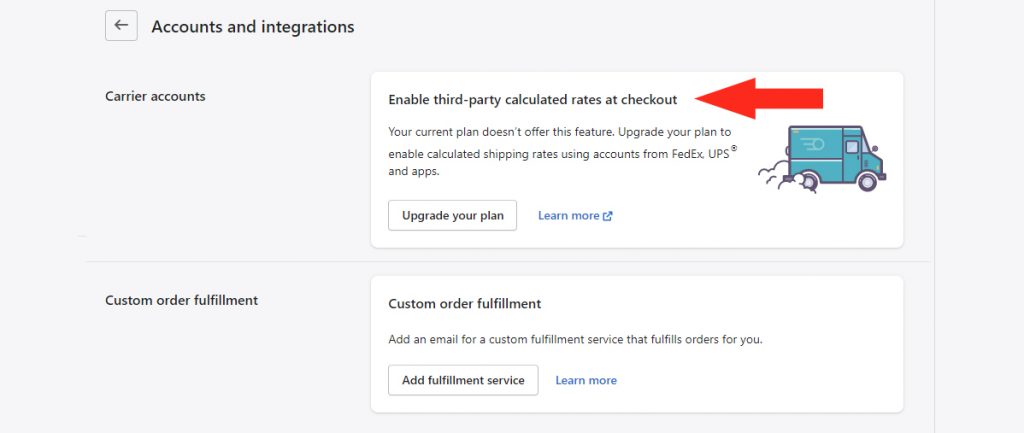 Enabling third-party calculated rates at checkout is a Shopify requirement if you are using any third-party rate calculator, including Intuitive Shipping – even if you're not planning to use live rates from a carrier – e.g. FedEx, UPS. The feature is USD $20.00 per month if you are on the 'Basic' or 'Shopify' plans. If you change your plan to annual billing, Shopify will add the feature at no additional cost – and they will discount your plan by 10%.
To learn how to enable Carrier-Calculated Rates, click Learn more where prompted to be taken to Shopify's Help Center guide. You will need to contact Shopify directly to have this feature enabled.
If you are on the 'Advanced' plan or higher, the feature is already included with your plan and enabled.
Clear the Shopify Cache
When testing updated Shipping Scenarios or Shipping Methods, you may need to clear the Shopify checkout cache in order to see updated rates. If you run a test after a change has been made in Intuitive Shipping:
Change the address slightly – e.g. change '123 Main St.' to '1234 Main St.'
Alternatively, if you want to use the exact address from a previous test, you must change the cart contents. You can either increase or decrease the quantity of an item or add/remove another product. As long as the type and/or total quantity of items in the cart is different, the cache will be cleared.
Once you've finished testing your setup in Testing Mode, you'll need to Activate Your Account to start using Intuitive Shipping for live checkouts.
Hide Intuitive Shipping From Customers
After your account has been activated, you can hide your Intuitive Shipping setups from your customers. This is useful if you want to conduct further testing on all of your setups without altering the Visibility settings of individual Shipping Scenarios.
1) Click the Settings menu button.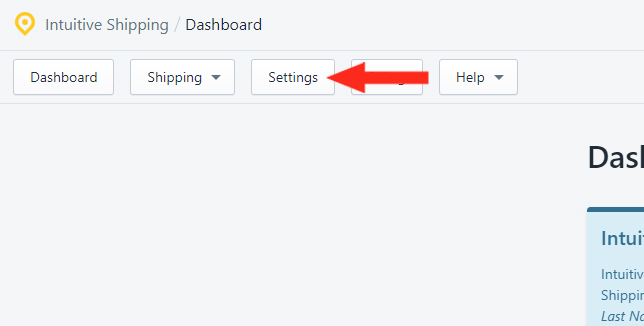 2) Under General, toggle Visibility to Off. This will make all of your Shipping Scenarios invisible to your customers.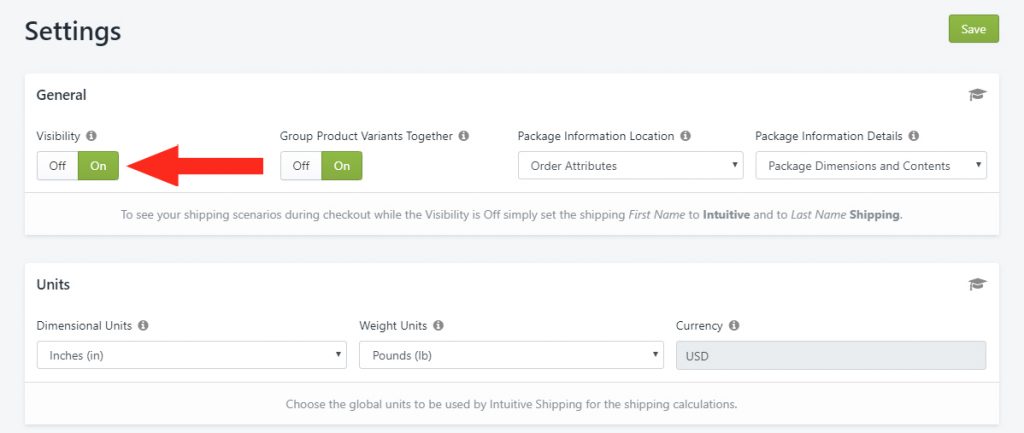 3) Click the Save button to save your Visibility settings.
4) Follow the steps at the beginning of this article to Test Your Setup – including using the customer name 'Intuitive Shipping'. This will allow you to bypass the Visibility setting.
5) When testing is completed, set Visibility to On again to make Intuitive Shipping available to your customers.