In October 2021, we launched a brand new version of Intuitive Shipping!
The New version of the app was completely rebuilt from the ground up. Not only does it have a slick user interface, we've also added some exciting new features and refined many of the setup tools that have helped merchants like you take control of their shipping costs for the past few years.
Which Version Are You Using?
If you're new to Intuitive Shipping, or if you don't use the app a lot, you may not be able to immediately tell which version you're using.
Here's how you can tell.
Install Date
If you installed Intuitive Shipping for the first time after Oct. 18, 2021, you're already using the New version. From that point on, only the New version can be installed if you have not previously installed the app.
That means, if you had the app installed before Oct 18th, deleted it, and you've decided to give it another try, it will reinstall the Legacy version again.
If you installed Intuitive Shipping for the first time prior to Oct. 18, 2021, we'll be in touch soon to assist you in migrating to the New version.
Check The App
If you're still not sure which version you're on, it only takes three steps to check.
1) Sign in to your Shopify admin page.
2) Click Apps on the admin sidebar menu.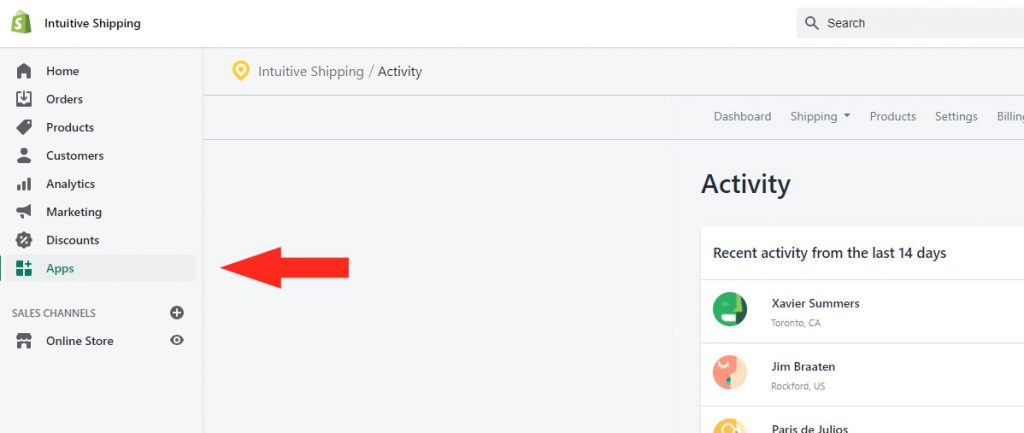 3) Click Intuitive Shipping on your list of installed apps.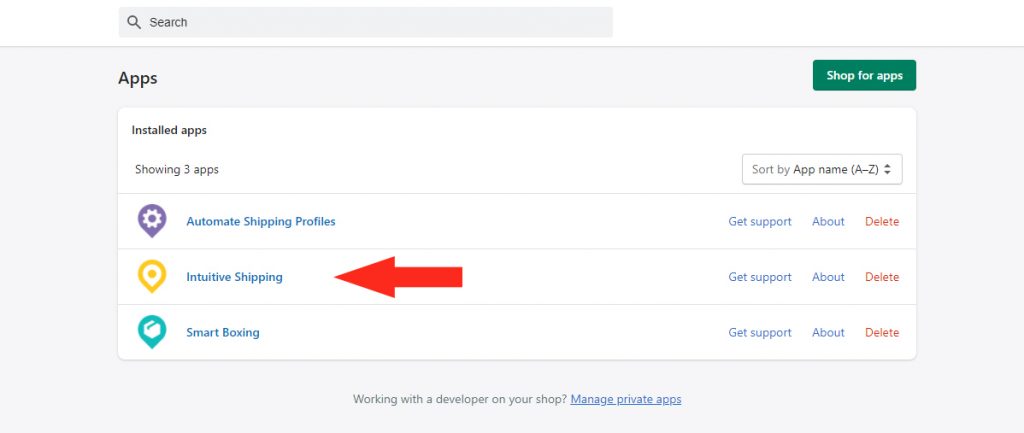 You're using the Legacy version of Intuitive Shipping if
you begin on the Activity page
the app menu is across the top
the app is embedded in Shopify (you can see the Shopify admin sidebar on the left side).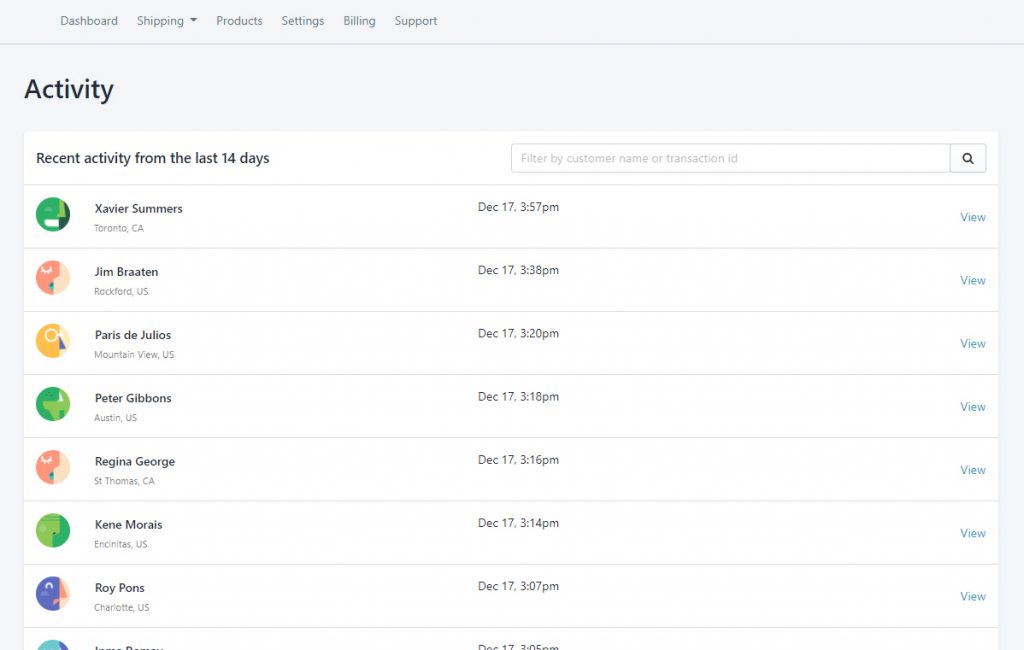 You're using the New version of Intuitive Shipping if
you begin on the Get started page
the app menu is on the left side
the app opens in a new browser tab, separate from your Shopify admin page.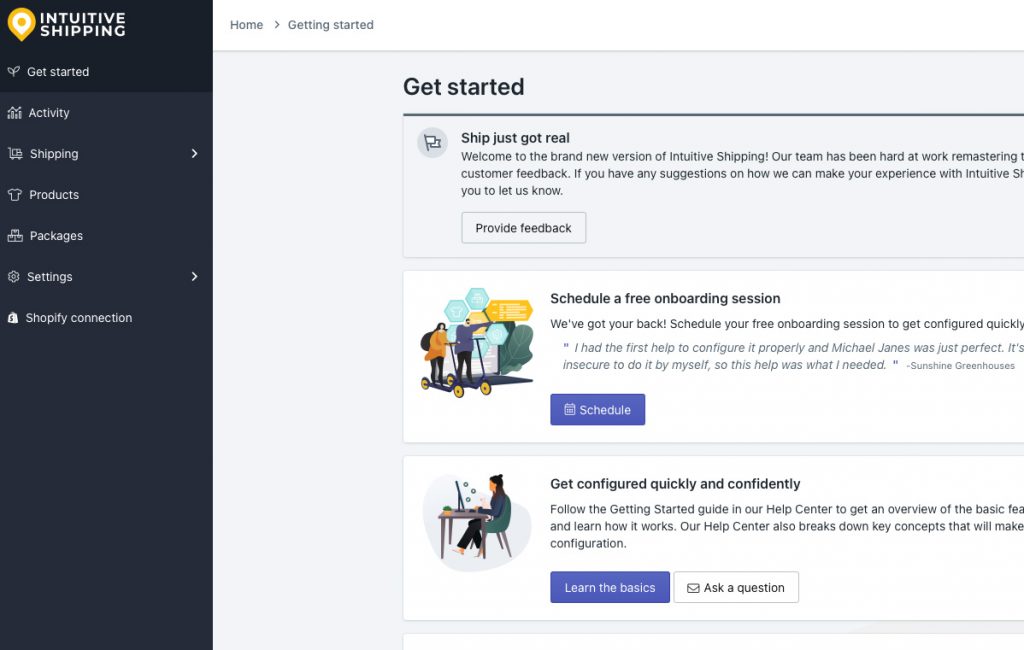 What's New?
The New version has been completely rebuilt! It not only looks great, it's more efficient, better performing, easier to maintain and more user-friendly to manage.
All of the features you've come to love in Intuitive Shipping are still there. And, we've added a few new ones! Here are just some of the improvements we've made.
Zones
Zones can now be managed right in the app. On the Legacy version, we synced your Shopify Shipping Zones. That meant, any time you had to make changes to your zones, you had to leave the app, make your changes in Shopify, then re-sync those changes with Intuitive Shipping. This could be tedious, time-consuming, and risky if you forgot to re-sync. Now you can conveniently manage all of your shipping zones right in the app so they're always up-to-date.
Packages
Packages now have a central management system, so you only need to enter them one time, then quickly select the packages you want in each shipping method. If you run out of stock, easily disable a package, and it'll be ignored by the shipping method without having to be removed completely.
Rate Blending
Rate blending isn't new to Intuitive Shipping, but we've improved it so much it may as well be! On Legacy, Combined Shipping Methods has been on of the most frequently used, yet at times most challenging Legacy features to take advantage of. Now, if you just want to combine multiple rates into a single shipping cost, you can very quickly set up simple rate blending. If your rate combinations have more complexity, advanced rate blending gives you more flexibility and customization than ever.
Sub-zones
Postal code and ZIP code-based sub-zones let you control shipping to more localized areas. On Legacy, sub-zones were configured using our Condition Groups feature. Now sub-zones are a stand-alone feature. They can be managed right in Zones, and assigned to shipping methods just like a regular zone.
Locations
If you have alternate shipping origin locations for live rates and local deliveries, you can set them up in a central system, then quickly assign them to parcel service or local delivery shipping method as needed.
Shipping Methods
We've improved how shipping methods are created and maintained. Now you can select the type of shipping method you want during setup, such as parcel service, custom rates, local delivery or free shipping, giving you only the settings you need for each type.
Carriers
Like packages, zones and locations, carriers have their own central hub, so you only need to set them up once. This makes them easier to update and greatly reduces the risk of entering your account credentials incorrectly.
Why Did We Change?
When we launched Intuitive Shipping back in 2017, we couldn't have imagined all of the ways the app would be used to control shipping at checkout. We're truly in awe of some of the sophisticated and unique setups we see every day!
We also couldn't have imagined back then just how quickly and how significantly Shopify would grow and change.
Over the past few years, our development team has worked hard to adapt to all of the ways our app is being used, and to keep up with platform changes at Shopify. We reached a point where it was no longer feasible to make running changes to our Legacy version. Minor facelifts and feature updates simply wouldn't cut it anymore.
A Note To Our Legacy Users
We know that for some of you, change is exciting and invigorating, and you can't wait to jump into the New version. For others, change can be overwhelming and, when it involves business-critical software like Intuitive Shipping, it can be a bit unsettling. That's why we've decided to roll out the New version slowly; to give you some time to prepare and learn about the New version before migrating. We also want to make sure the migration is smooth and seamless.
We look forward to helping you migrate to the New version soon!