If you need assistance with the Intuitive Shipping app, please contact us using one of the methods below.
Do you have a question about our support services? Check out the 'Support' section of our FAQ.
All of our support services can be accessed through the Support page of the app. Click your store name at the top right of any app page, then select Support from the drop-down list.
Submit A Ticket
If you need assistance with Intuitive Shipping, please submit a support ticket directly from the app Support page.
Include your name and email address, then select the type of support you need. Provide as much information about your request as possible in the message field.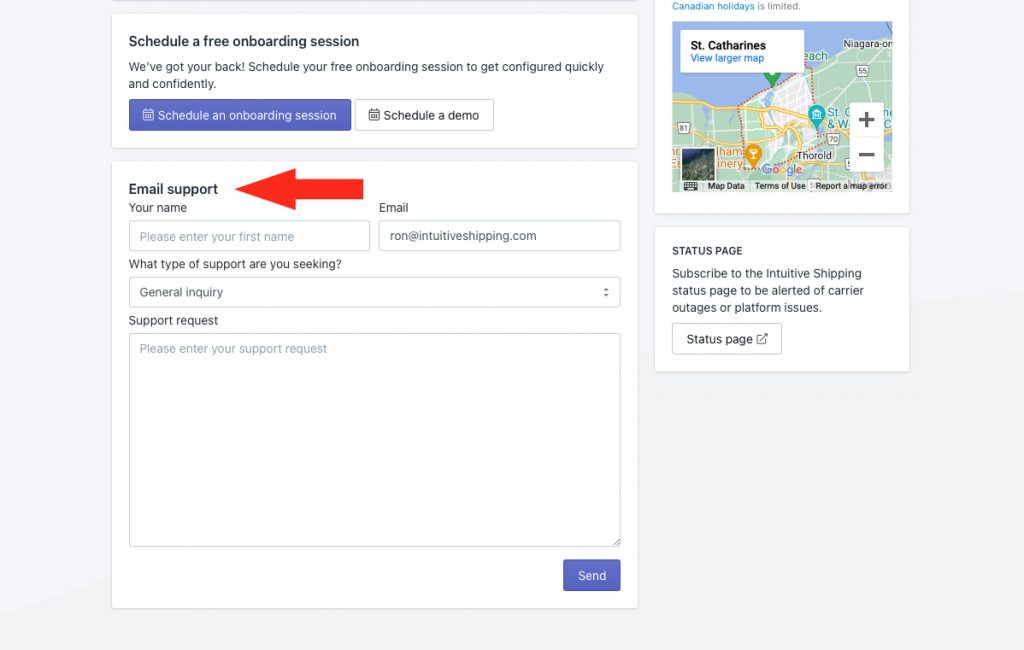 We typically respond within 1 business day during regular support hours.
Our regular support hours are:
Monday – Thursday, 7:00am to 6:00pm Eastern Time
Friday, 9:00am to 6:00pm Eastern Time
We periodically update our regular support hours, so be sure to check back here or the app support page for our current support times.
Urgent Support
If you have an active billing plan and you are experiencing a business-critical situation that is causing you to actively lose sales, please select the urgent option from the support type drop-down.
One-on-One Support
Do you require real-time troubleshooting assistance? Let us give you a hand. If you have an active billing plan, we can walk you through any questions or concerns you have about Intuitive Shipping.
Book your appointment directly from the app's Support page.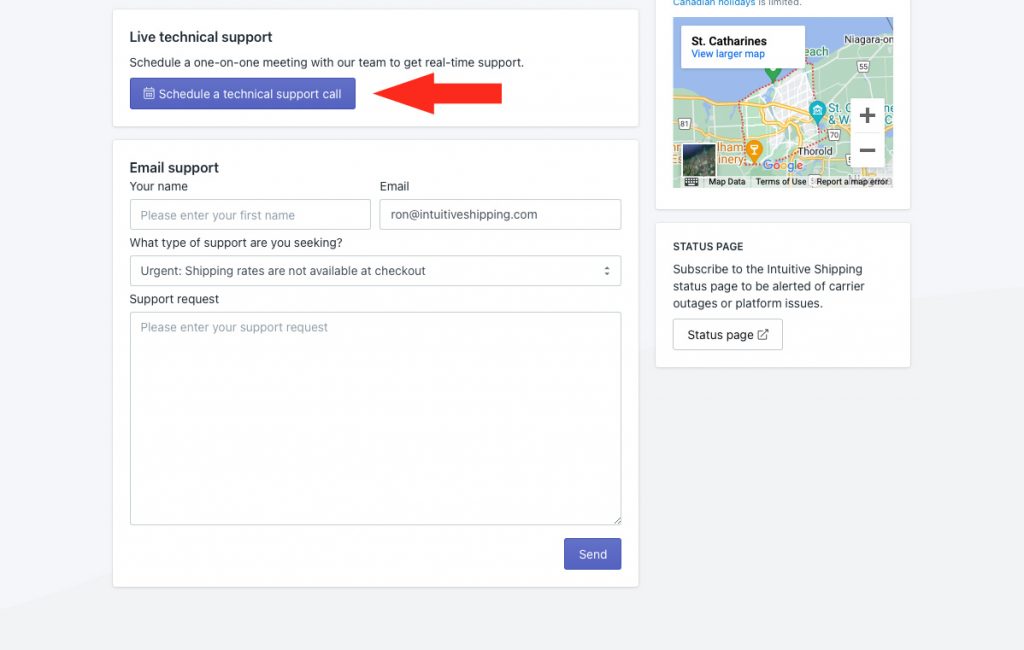 Due to how we troubleshoot technical issues, we typically need visibility of your app and store settings in real time. All of our one-on-one support meetings are by appointment using web conferencing software, where we can effectively diagnose and resolve non-urgent situations.
Intuitive Shipping's support team does not use an outbound call system, so we are unable to call you.
If you are experiencing an urgent, business-critical issue where you are actively losing sales as a result of rate calculation issues, please submit a ticket using the Urgent option (see section above). A member of our support team will respond as quickly as possible.
Get A Demo
Not sure if Intuitive Shipping is right for you? Take a tour of the Intuitive Shipping app with one of our amazing team members! Book your live demo appointment today!
If you have Intuitive Shipping installed and you're still in Sandbox mode, you can book a demo directly from the app's Support page.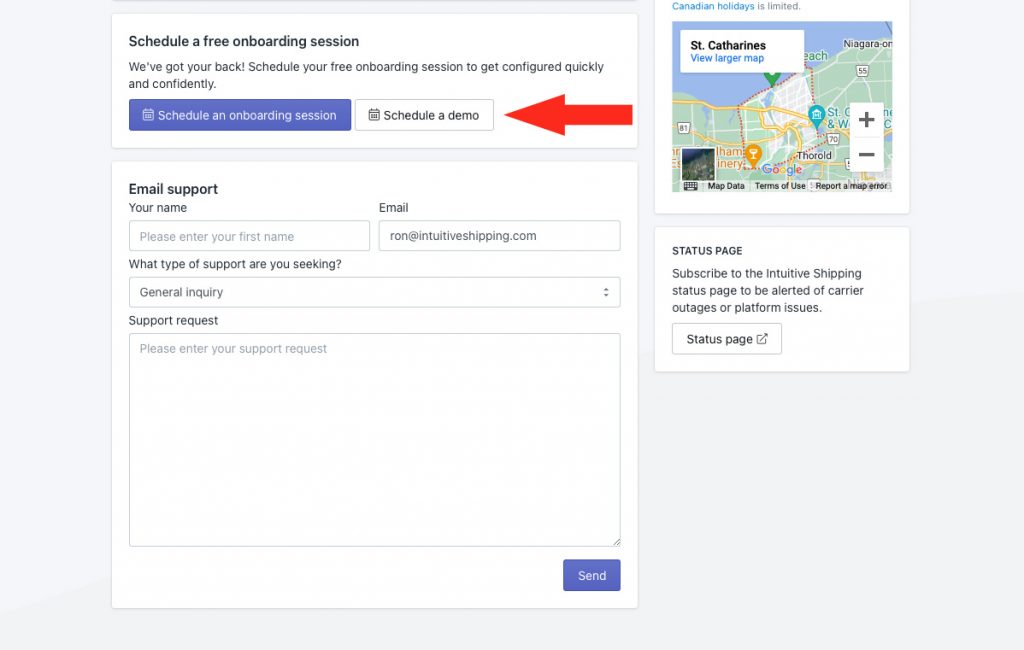 Free Onboarding
If you have installed Intuitive Shipping and you're ready to get started, but don't know where to begin, book a free, one-on-one Onboarding session with our team directly from the app. We'll walk you through the initial setup process to get you on your way and help you feel more confident when you activate.
Go to the Get Started page, then click the Schedule button in the Onboarding session section near the top of the page.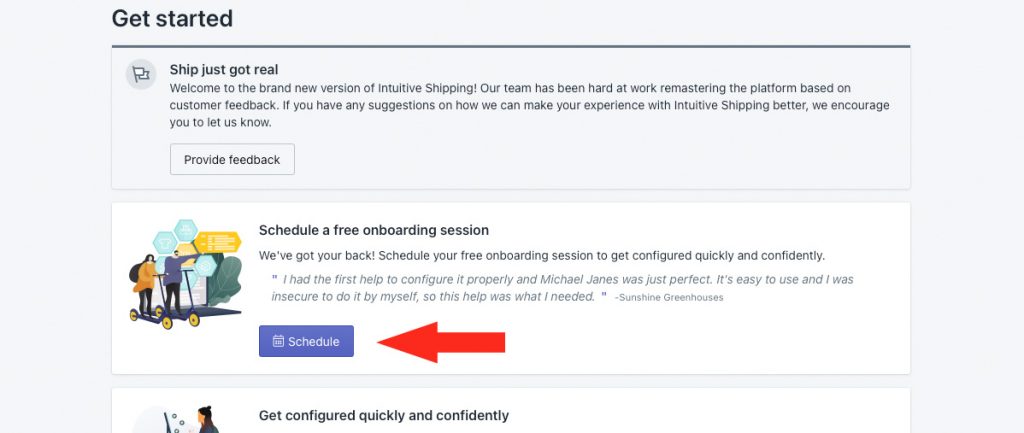 You can also book an onboarding session from the app's Support page.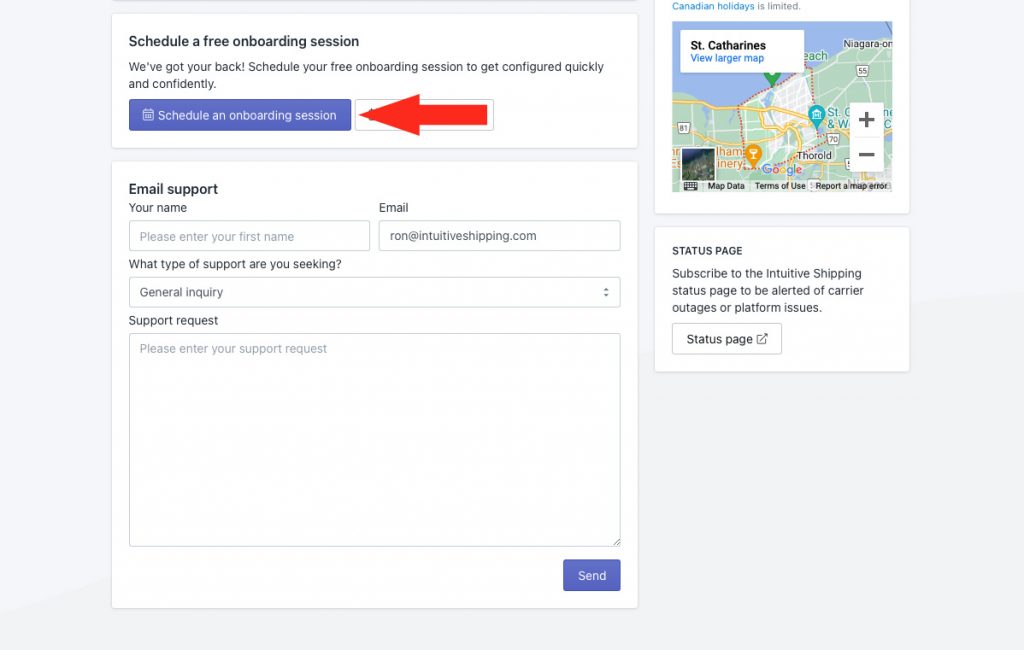 App Status
For real-time updates during app downtime or technical issues, check out our Status page. We also provide updates when our carrier partners have rates-related issues.
Be sure to add the Status page to your browser bookmarks. Or click the Subscribe To Updates button at the top of the Status page to receive status alerts by email.