The Activity Dashboard is your starting point each time you return to the Intuitive Shipping app. Here you'll find a list of recent shipping cost calculations that have been returned by Intuitive Shipping, displayed as Activities.
Intuitive Shipping will also display important reminders about the status of your account at the top of the Activity Dashboard.
Recent Activity
Each time Intuitive Shipping calculates shipping rates, a 'transaction' is generated and recorded as an Activity on the Dashboard.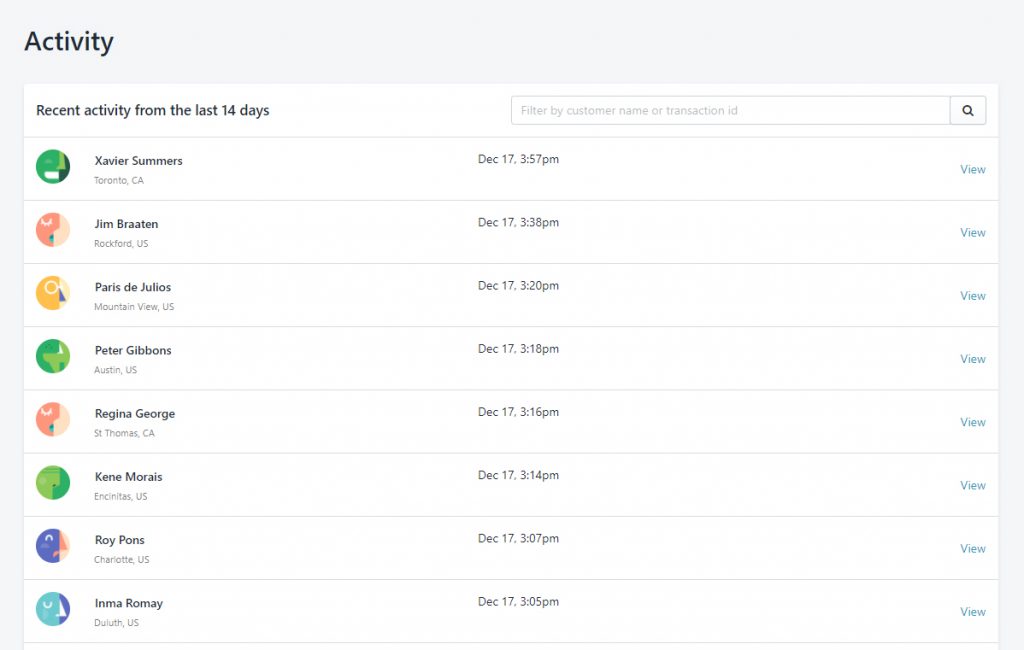 Activities from the past 14 days will be displayed in descending order, with the most recent activity appearing at the top. Each Activity listing will display the customer's name and city along with the date and time the Activity occurred.
1) To search for specific Activities, type a customer's name or a Transaction ID into the search bar at the top of the Recent Activity list. See below for more details about Transaction IDs.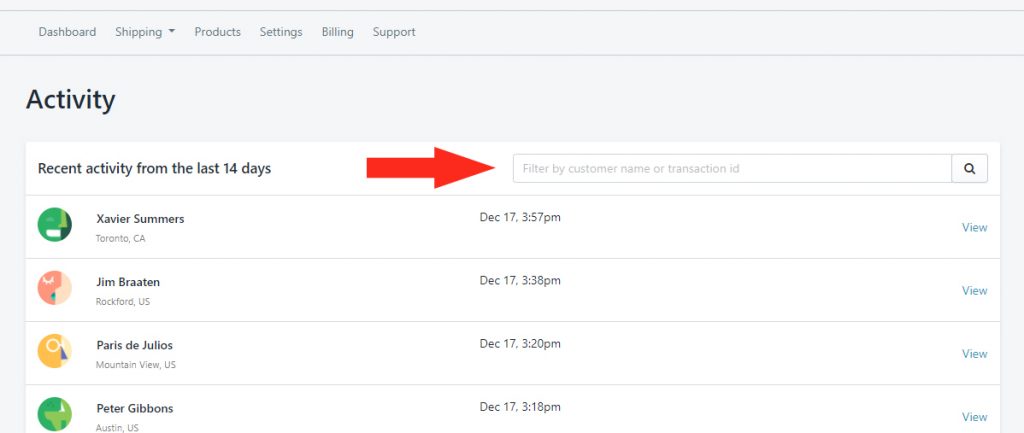 2) To review specific details about a recent shipping rate calculation, click View beside any recent Activity.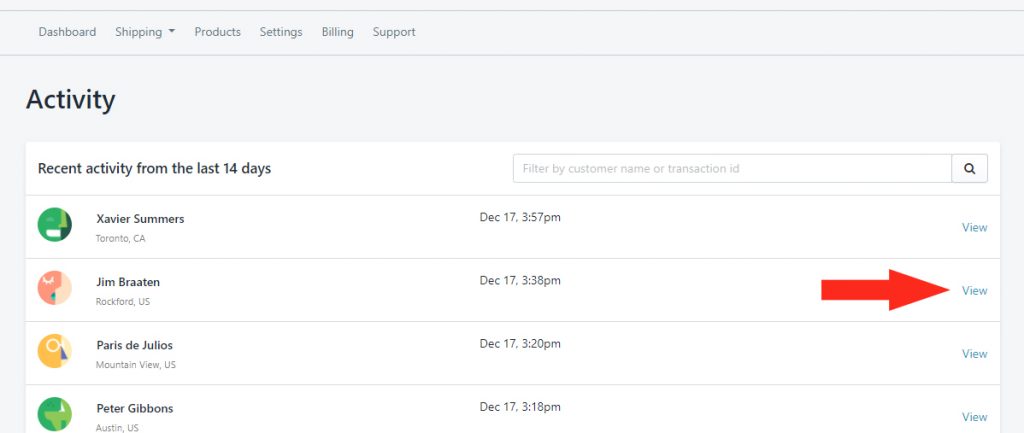 Each detailed View is broken into four (4) sections:
Shopping cart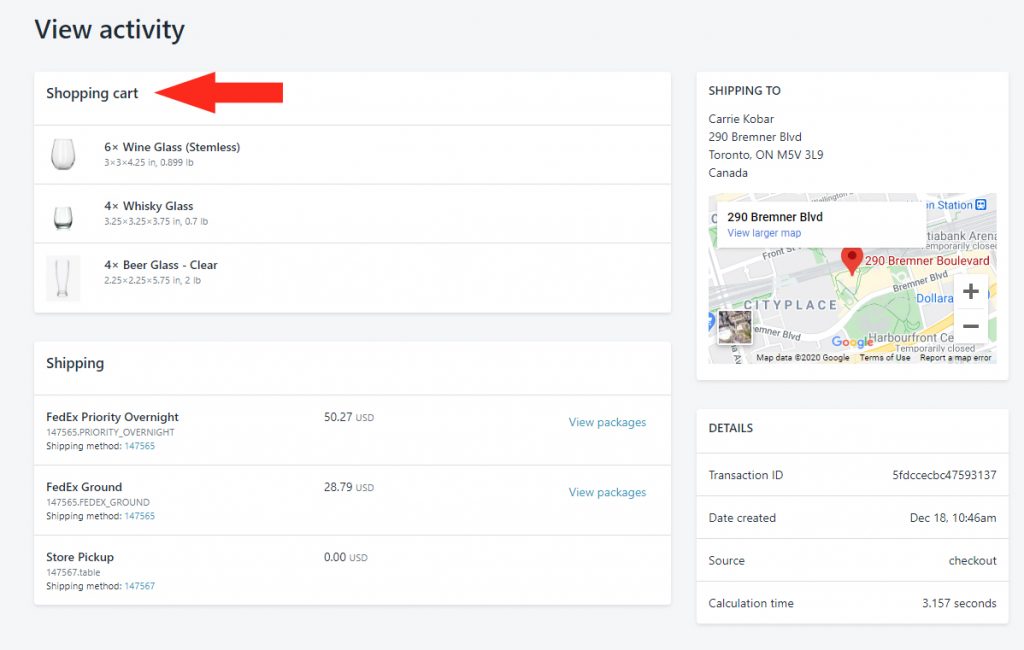 This section contains:
The quantity and name of each product in the cart.
Each product's individual dimensions and weight (if available).
Product image (if available).
Shipping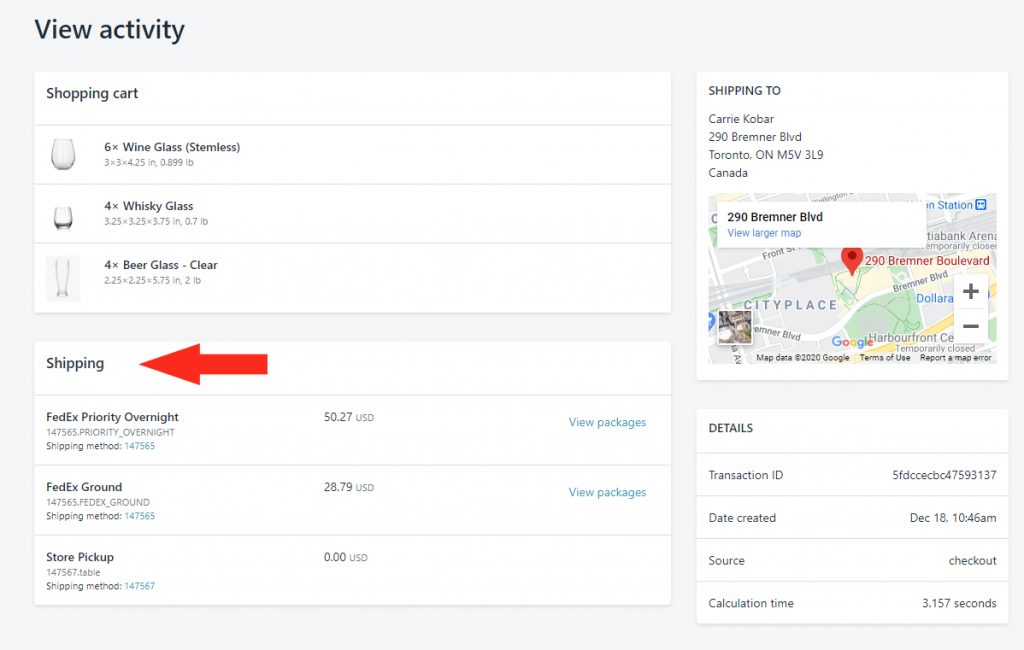 This section contains:
The title of each shipping method returned by Intuitive Shipping.
The shipping method ID number.
The cost calculated by the shipping method.
A 'View Packages' link (if packages were used to calculate live rates).
Shipping To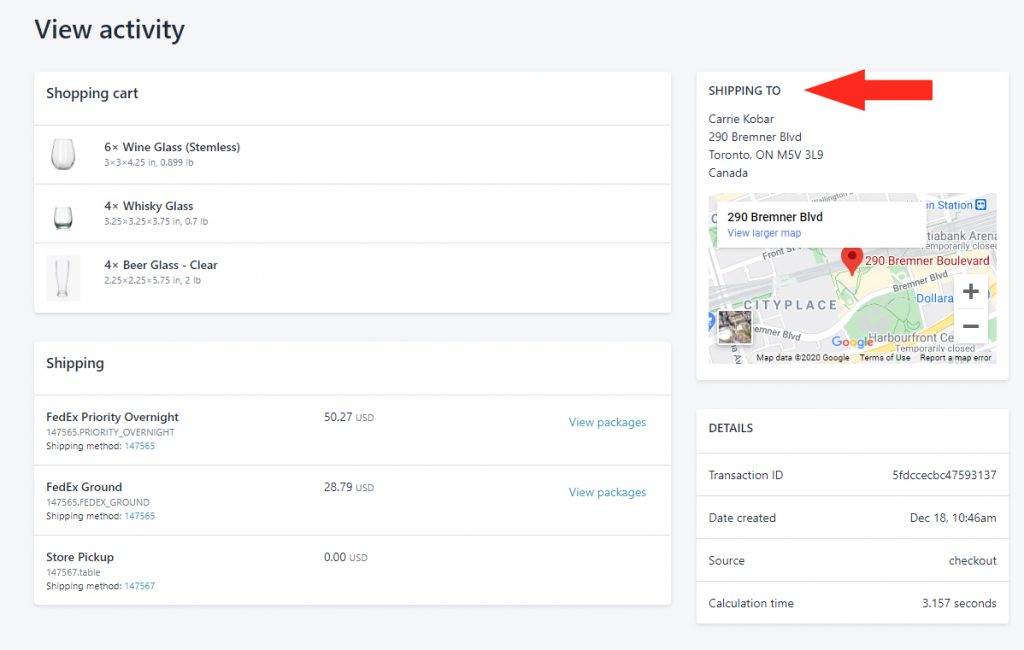 This section contains:
The customer's name and complete shipping address.
A Google Maps reference for the customer's address.
Details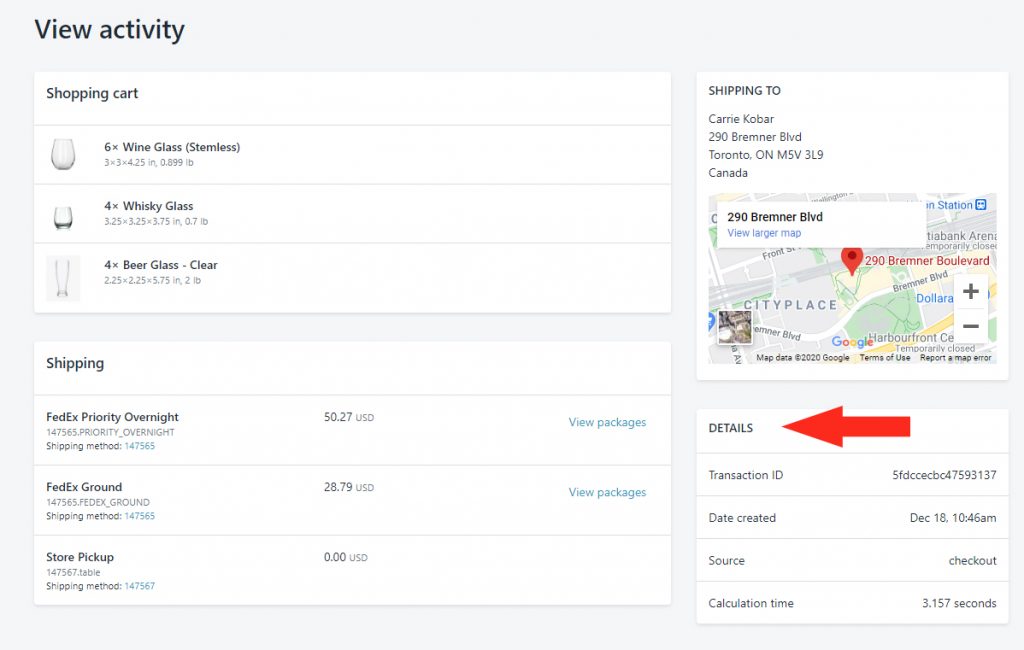 This section contains:
The Transaction ID – this unique ID number is assigned to every transaction recorded by Intuitive Shipping, and can be used as a reference number when requesting support for a specific rate calculation error or discrepancy.
Date created – this is the time stamp on the transaction.
Source – this is the origin of the shipping calculation. There are two (2) sources: 'checkout' – the checkout page on your Shopify store – and 'draft order' – when you create a draft order in Shopify and select a shipping method from Intuitive Shipping.
Calculation time – this is the amount of time it took Intuitive Shipping to calculate the shipping rate and present it to your customer. Calculation times can be affected by the number of items in the cart, the number of Scenarios and Shipping Methods you have, the number of delivery types and package sizes in each Shipping Method, and, where applicable, the response time from integrated partners and live rate carriers.
Additional Details and Functions
View activity screens also provide links to additional details about the calculation.
Shipping Method ID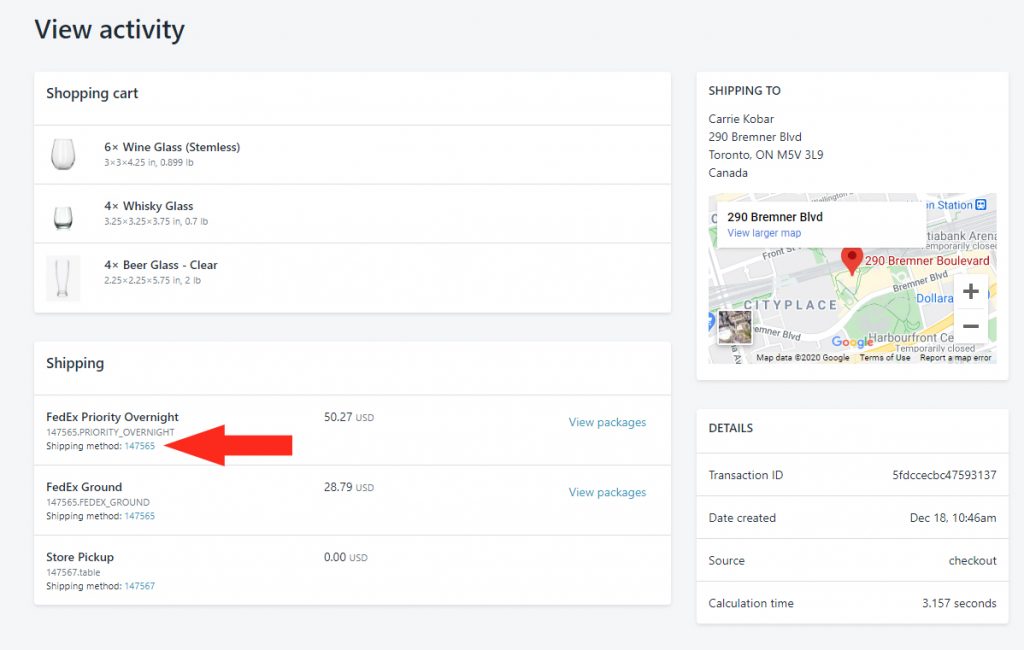 The numerical Shipping Method ID is displayed below the Shipping Method title. When you click on the ID number, it will take you directly to the Shipping Method that was used to calculate the shipping rate. This can be useful when you are unsure why the rate was returned by Intuitive Shipping.
You will see the Shipping Method title, and the Shipping Zone it resides in displayed at the top of the page.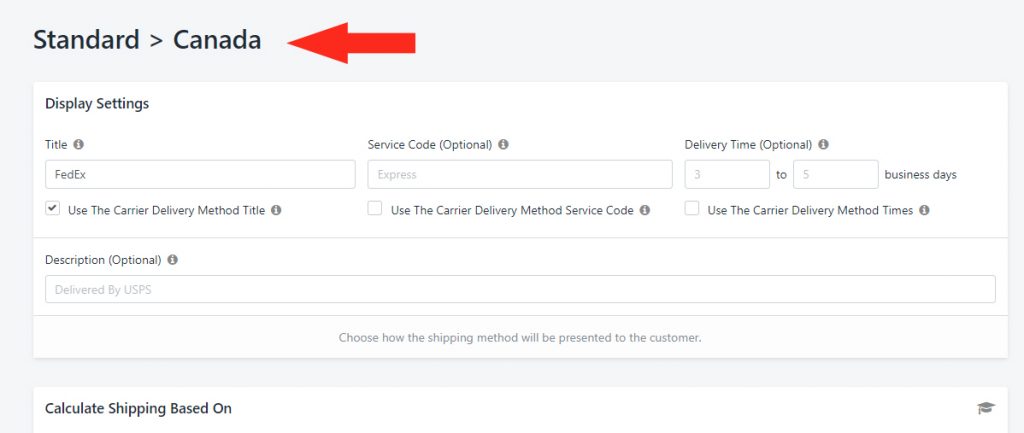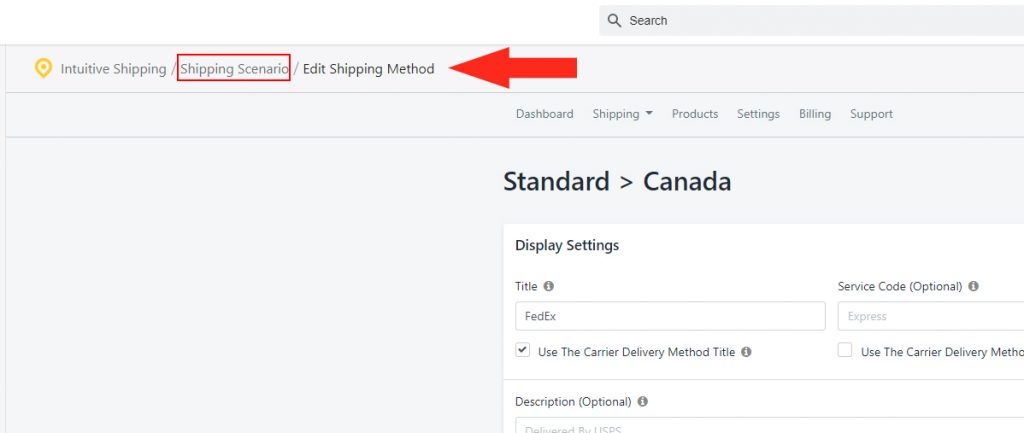 View Packages
If you're using live rates, click on View packages to see details about the packages that were used for the rate calculation.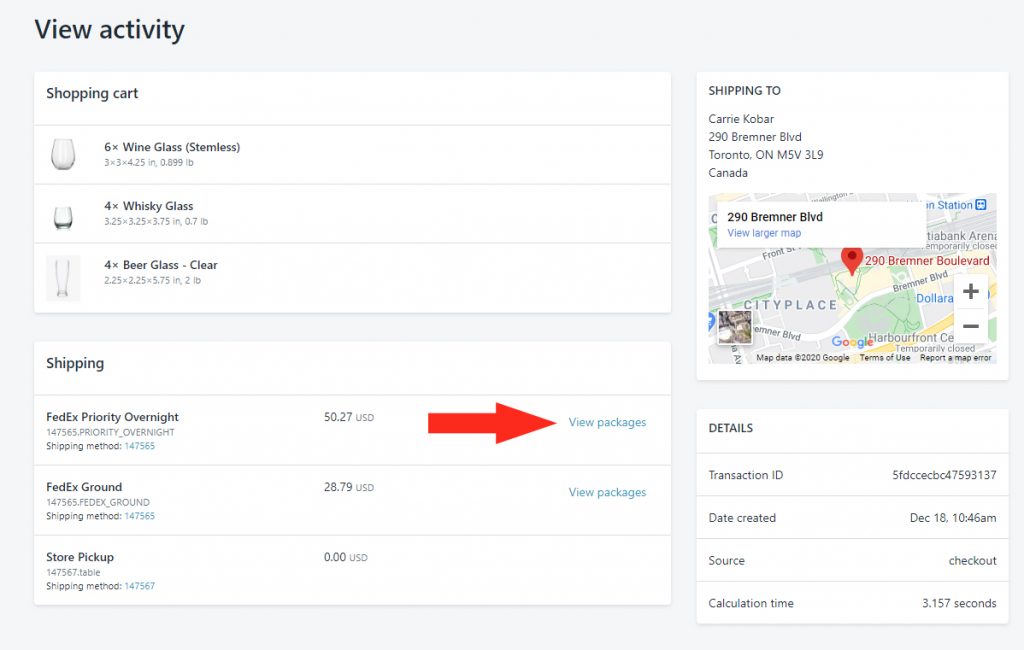 Each package used in the live rate calculation is listed, along with the dimensions and total weight of each package.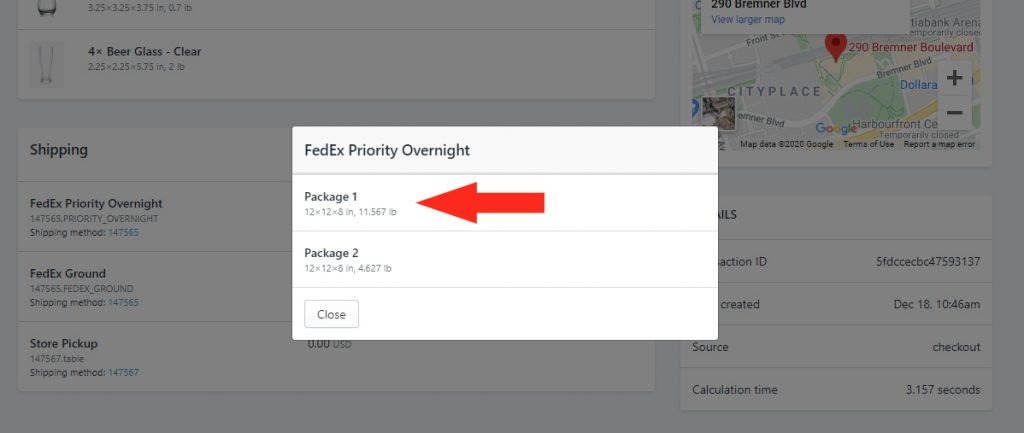 View Larger Map
Each View activity page includes a Google Maps reference based on the customer's exact shipping address. Click on View larger map to see the full Google Maps page.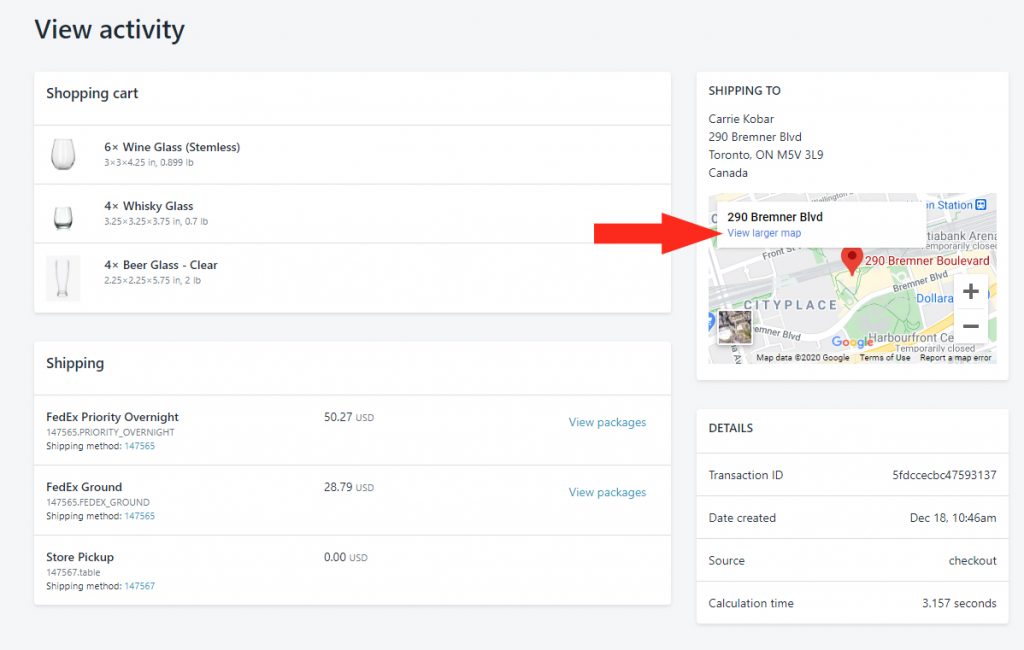 Back to Activity List
When you're finished reviewing activity details, you can return to the Activity Dashboard by clicking the Back to activity list button at the bottom right of the View activity page.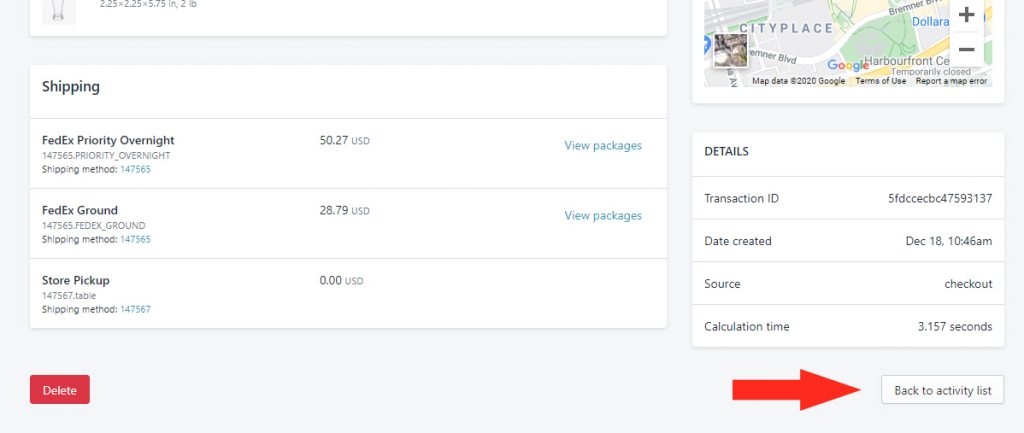 Delete
If there are Recent Activities that you no longer want on the list, and you don't want to wait 14 days for them to expire automatically, you can manually delete any activity by clicking the Delete button at the bottom left of the View activity page.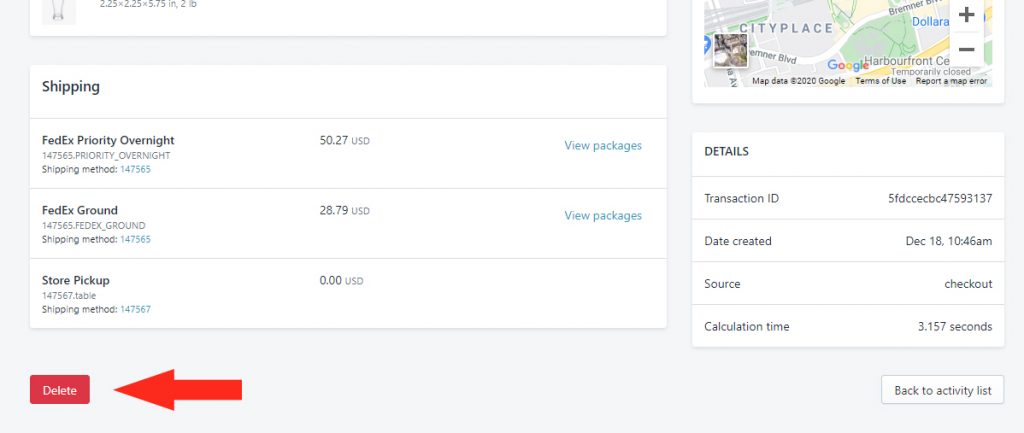 Deleting activities is useful when you want to do some 'housekeeping' and de-clutter your Activity list, such as when you've run test calculations that are no longer required.
Unknown Customer Information
The 'Unknown' customer listing may be due to one of a few different reasons.
Shipping Estimators
If you're using a Shipping Estimator on either the product page or the cart page, the Estimator will pull rates from our system based on the product or the contents already added to the cart. At this stage, the customer has, at most, probably only entered their postal code or zip code.
Quick Pay Services
Quick Pay services, such as Apple Pay and Shop Pay, may not pass certain customer information to Intuitive Shipping at checkout. This may include the customer's name. To learn more about how Quick Pay services interact with Intuitive Shipping, and some of the risks involved, check out the Settings section on our FAQ page.
Custom Checkout
If your theme uses a custom checkout page, it may not allow all of the customers' information to pass to Intuitive Shipping at checkout.
Cart Lookup Failed
If you're not using a Shipping Estimator or any Quick Pay Services, you don't have a Custom Checkout, and an 'Unknown' customer is listed in Activities, it may be the result of an unexpected technical issue where the cart lookup simply failed. This is typically a one-off issue that resolves itself.
If you're seeing frequent 'Unknown' customer transactions on your Activity Dashboard, please contact us so we can investigate.
Reminders
Important reminders and warnings about your account may occasionally be displayed at the top of the Activity dashboard page. These banners may include:
Intuitive Shipping Is Currently In Testing Mode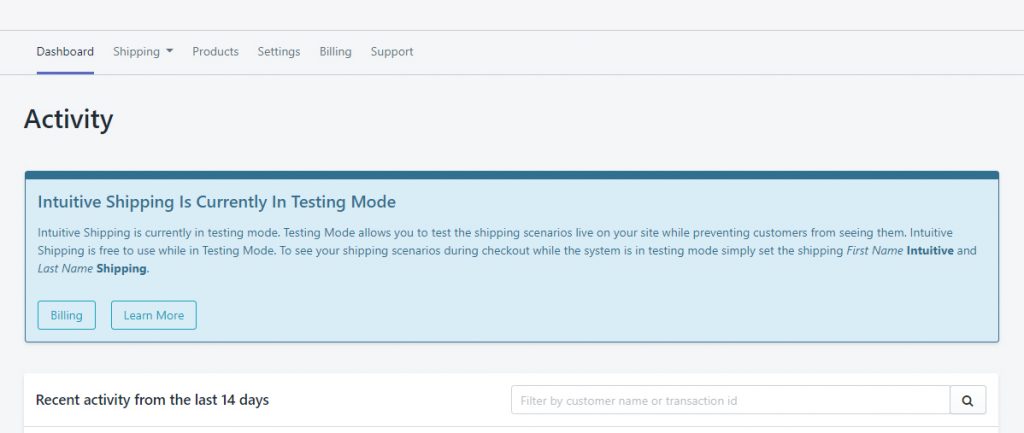 The Testing Mode reminder is displayed after you install the app. It remains on the Dashboard until you have activated your 14-Day FREE Trial. Intuitive Shipping is completely free to use in Testing Mode and does not count towards your free trial period. To use Intuitive Shipping with customers in a live setting, you will need to activate your free trial.
14 Day Free Trial
The Free Trial reminder is displayed after you have selected a billing plan and activated your 14-day free trial. It displays the date your free trial is set to expire and will stop displaying once regular billing begins. Transitioning from your free trial to regular billing is seamless. There is no disruption to your service, and there are no additional steps required at the end of the trial period.
Third-Party Calculated Shipping Rates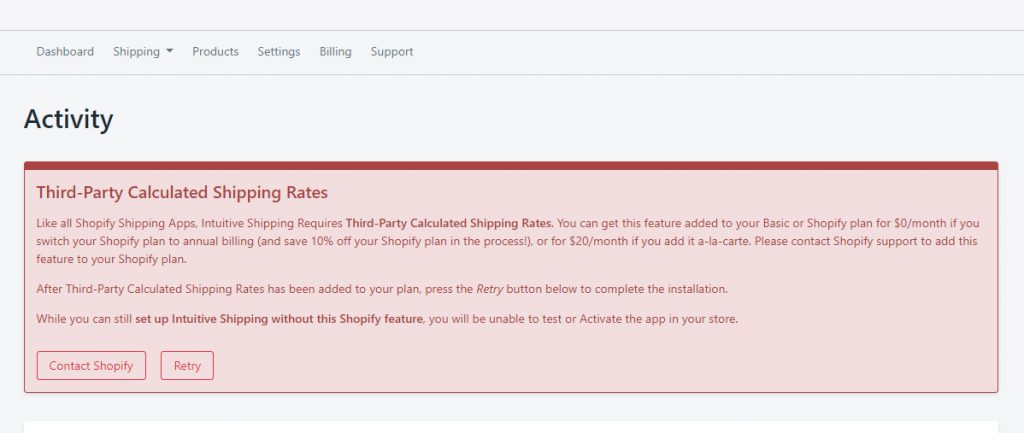 The Third-Party Shiping Rates alert is displayed when Shopify's Third-Party Carrier-Calculated Rates feature has not yet been enabled on your Shopify account. Shopify requires the Carrier-Calculated Rates feature to be enabled when using any third-party rate calculator, including Intuitive Shipping.
Google API Key Required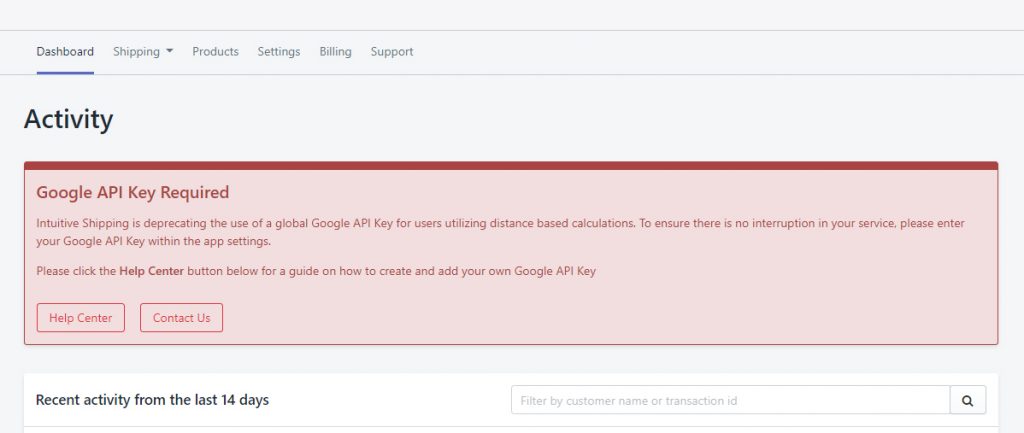 The Google API alert is displayed if you add a distance-based Condition to any of your Scenarios without having a Google API key linked to your Intuitive Shipping account. Intuitive Shipping calculates distance using Google Directions and Geocoding APIs. If you are setting up distance-based rates, you will need to create a Google API Key and add it to your Intuitive Shipping Settings.
Intuitive Shipping Is Currently Off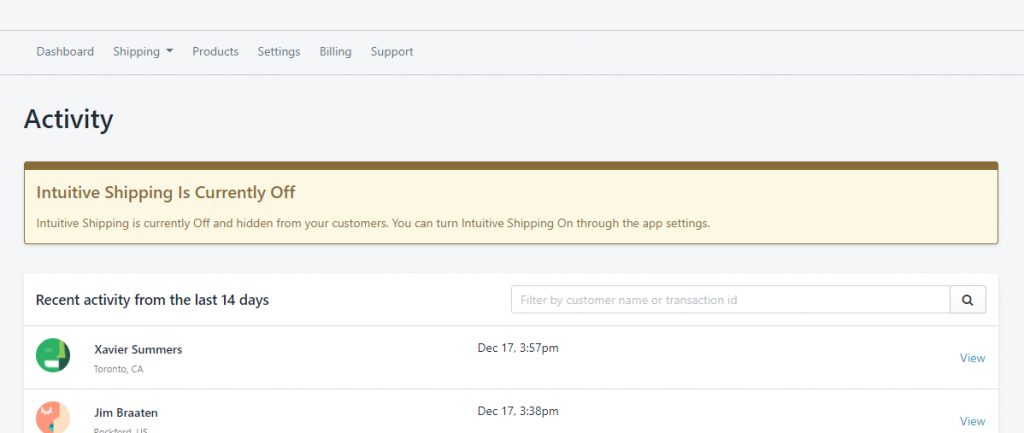 The Off status reminder is displayed when you are actively using Intuitive Shipping, and you have your General Visibility set to Off. That means customers can't see any rates generated by Intuitive Shipping at checkout. To resolve this, you'll need to go to the Settings page and turn General Visibility to On.