Shopify mandates that all third-party apps, including Intuitive Shipping, have a Maximum Usage Billing Limit that is chosen by the customer. This is the maximum allowable amount we are authorized to bill for overage charges. It does not apply to your regular monthly billing amount.
Your Billing Limit is pre-determined by your plan. For example, if you choose the Small plan, your Billing Limit is set to $20 by default. Once your account has been activated, you can make your Billing Limit higher or lower.
Here's how to change your limit.
Change Billing Limit
Click the Billing menu button.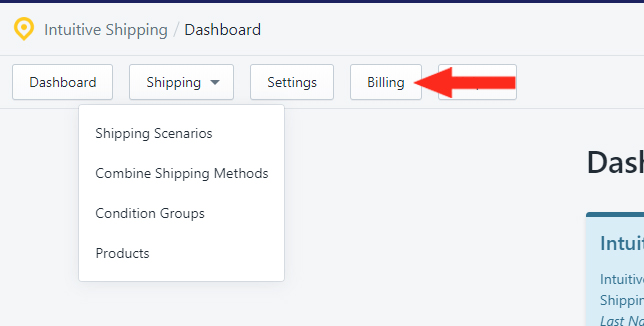 In the Current Plan section, update the amount under Change Billing Limit, then click the Update button. You will be prompted to approve the change.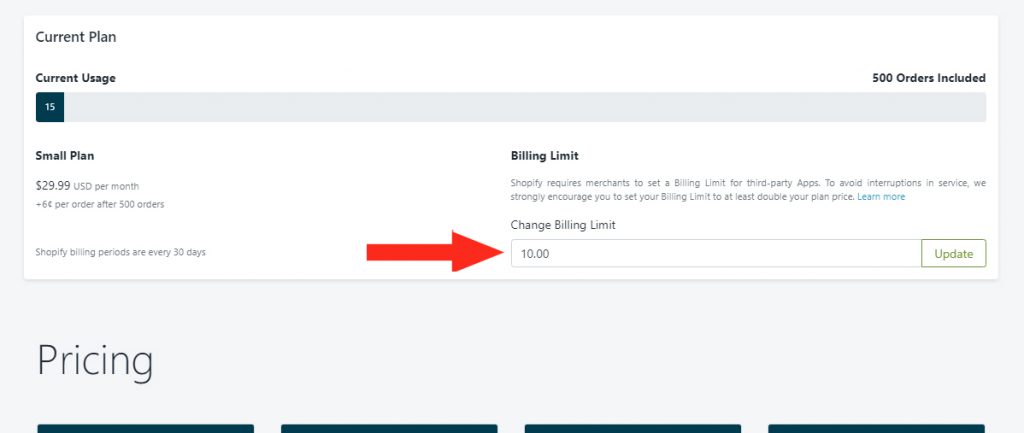 How It Works
Each Intuitive Shipping pricing plan includes a set number of orders, as well as an additional per order charge which is billed for each order processed over your plan limit.
That means you can continue to use Intuitive Shipping even if you go over your plan limit.
If you exceed your plan limit, each additional Order is billed on a per order basis. The additional per order charge is determined by your current plan. Additional per order charges can be billed up to your Maximum Usage Billing Limit.
No matter what Billing Limit amount you set, you will only be billed overage charges for actual Orders exceeding your plan. Let's say you select the Small plan which includes 500 orders per month and has an additional per order charge of $0.03 – and you manually select a Maximum Usage Billing Limit of $20. If you process 600 orders, your overage charges will be $3 (100 additional orders x 0.03).
Overage charges will appear on your monthly Shopify invoice along with your regularly monthly plan amount. Since you're invoiced once per month, per-order charges will accrue until your billing cycle ends or until you reach your Maximum Usage Billing Limit – whichever occurs first.
Once you reach your Maximum Usage Billing Limit, Intuitive Shipping will no longer return rates at checkout until one of the following happens:
Your Maximum Usage Billing Limit is increased
Your next Shopify billing cycle begins
You can upgrade your Intuitive Shipping Plan at any time before your billing cycle ends. Any overage charges that have accrued to that point will appear on your next Shopify invoice, but no further overage charges will accrue after you upgrade.
Learn more about the Maximum Usage Billing Limit in our Billing FAQ.